Waikiki Walking Tour 1: Hawaiian Royalty
GPS guided walking tour along the historic trail exploring world famous Waikiki.​
GPS Guided Walking Tour
Turn by turn directions & historical stories


Self Guided Waikiki Walking Tour on the Historic Trail
Explore one of the most famous vacation destinations in the world on this Waikiki walking tour.  Learn about the royalty that used to live in the area, sample great food, shop until you drop, and maybe even take a surf lesson.  Itʻs up to you.  By the end of the tour, you will have a much greater understanding of the Waikiki Historic Trail and plenty of fun to go along with it.
Waikiki Historic Trail: Visit stops 1-12 on the historic trail.  We provide background information between each stop  
Shopping Options: International Market Place, Royal Hawaiian Shopping Center, Dukes Lane, and much more
Food Options: Poke, Hawaiian Hot Dogs, Korean BBQ, Dukes Restaurant, Shrimp Trucks, Local Food, Mai Taiʻs, Dole Whip
Historical Options: Prince Kuhio Statue, Duke Kahanamoku Statue, Moana Surf Rider, Royal Hawaiian Hotel, Don Ho, Princess Kaiulani Statue, Queen Liliuokalaniʻs land, Kapiolani Park
Water Activities: Swimming, snorkeling, Surfing, canoe rides, catamaran sails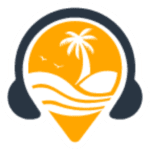 GPS Guided Virtual Audio Tour of the Waikiki Historic Trail
There is so much history in Waikiki!  Kings, Queens, and commoners alike loved Waikiki.  To help share their stories, we have incorporated the Waikiki Historic Trail for you to experience.  We share stories in between and help you find the historical markers.
Waikiki is also full of great food and shopping options.  You can explore however many of them you want and weʻll share some of our favorites.  This tour has it all, walking along the beach, through the city, along the canal, and ends in Kapiolani Park.
This Waikiki walking tour is GPS guided and easy to follow.  You can join from anywhere along the route, but we definitely recommend starting from the beginning.  It is built on the worldwide VoiceMap travel app, which is free to download and easy to use.
Explore and learn about the Sands of Kakuhihewa
We incorporated the surfboard markers and stories from the Waikiki Historic Trail map into this walking tour.  There are opportunities for history buffs to learn more along the route.  Learn about local legends Duke Kahanamoku and Don Ho.  Hear about the Hawaiian Royalty that used to live in the area and still owns much of the land today.  All the while enjoying the modern amenities that this world-famous town has to offer.
Important Waikiki & Historic Trail Information
Kapiolani Park to "First Aston"
Kapiolani Park to Duke Statue
Duke Statue to Royal Hawaiian
Royal Hawaiian to Princess
Princess to Queen Liliuokalani
Queen Liliuokalani to the Zoo
Suggested Routing and Itinerary
Full Walk
Half Day Tour
Sunset Tour
Break into Sections
Military History Combo
Full Walk
The GPS Guided Waikiki Walking Tour by Audio Tour Hawaii is about 3 miles long and takes approximately an hour and a half for the full route.
This tour includes the royal history of Waikiki.  It is a "behind the scenes" walk through one of the most famous vacation destinations in the world.
History buffs will love the free extras and can follow along at waikikihistorictrail.org
There are options to save time or break the tour up into sections.
Half Day Tour
Sunset Tour
Break into Sections
Military History Combo
New to the Community?  Represent a school group or local organization?  Even tour companies looking for a way to save money on employee training will love the AT.Hi experience.  We offer Kamaaina Pricing and free, fun retention quizzes for all our tours.  Why should visitors get to have all the fun?