Online Learning & Free Quizzes for AT.Hi Walking Tours
Each route includes free quizzes and online learning for a variety of ages and purposes.  There are two versions of each.  The Easy(ish) tests have 10 questions.  They fly by and are great for kids.  If you are thinking about tour training or just want to get to know your neighborhood better, check out the Hard(er) versions.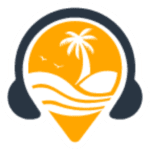 Experience Hawaii by Foot with AT.Hi GPS Guided Tours
All of our walking audio tours are designed and narrated by professional guides.  We give turn-by-turn directions, historical information, shopping, food, and restroom recommendations.  Relax and explore some of the most famous areas in Hawaii at your own pace.  Even cool off and take a dip if you want.  We have that taken care of all the details for you.
The five-star Oahu private tour company Halia Tours and Transportation researched the stories and found our favorite tourism professionals to give you the best experience possible.  All information is from reliable sources, shared by local people.  Every tour has fun scavenger hunts and free online learning and training quizzes.
AT.Hi includes free quizzes and online learning for tour training
Enjoy local GPS-guided walking tours by AT.Hi delivered on the worldwide app for travel VoiceMap to help you take in the best historical trails.  Customize your experience with a variety of food, shopping, and activity options throughout the route.  Everyone includes two free quizzes and scavenger hunts for online learning and retention.  All tours are designed and narrated by Hawaii tour industry professionals to ensure you have entertaining interpretation and accurate information from reliable sources.
Want to checkout more free fun quizzes
Every single offering by Audio Tour Hawaii comes with a couple of free and fun quizzes for you to enjoy.  Try our Easy(ish) 10-question tests or dive into the Hard(er) 25-question versions.  Great for kids, tour training, or just getting to know your neighborhood.  We proudly offer discounts for locals and the military.