South Oahu Scenic Beaches & Hiking Tour
GPS guide of some of the best beaches, Oahu hiking tour, and self driving excursion.
GPS Guided Driving Tour
Turn by turn directions & historical stories


GPS Guided South Shore Oahu Self Driving Beaches and Hiking Tour
This self-led GPS guide will help you explore Oahu's South and East shores. Customize your experience from totally accessible to a full-blown swim and hiking tour with facts and turn-by-turn directions.  You can even hike the Lanikai Pillboxes and visit Hanauma Bay! We included all the classics plus a few attractions not covered on traditional Oahu hiking tours.
Best Southern Beaches: Options to explore beaches at Hanauma Bay, Eternity Cove, Bellows, Kailua, and Lanikai Beaches.
Oahu Hiking Tour: You can experience hikes to the top of Diamond Head, Koko Crater, Makapuu Lighthouse, and Lanikai Pillboxes.
Food Options: Koa Pancake House, Leonards Malasadaʻs, Onoʻs Steak and Seafood, Buzzʻs Steakhouse, Teddyʻs Burgers, and much more.
Historical Locations: Diamond Head, Black Point, Kahala, Hawaii Kai, Hanauma Bay, Kailua, "Lanikai," Koolau Volcanic Locations, Bellows, and Marine Corps Base Hawaii.
Scenic Delights: Amelia Earhart Lookout, Koko Crater Gardens, Halona Blow Hole, Makapuu Lookout, Kaneohe Bay, Hoomaluhia Botanical Gardens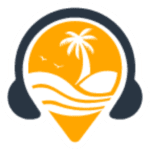 GPS Guide for Oahu Beaches and Hiking Tour Details
Did you know that even on a private tour, guides cannot take you to Kailua or Lanikai Beaches?  Itʻs true. Just like those tours, we begin outside Waikiki on the Diamond Head Crater slopes.  But unlike those tours, you can access to the most famous spots on the southern shoreline.
The best part of this Oahu beaches and hiking tour, other than the obvious, is the ride.  A good guide with engaging stories and an absolutely incredible view.  We give you turn-by-turn directions to some of the most famous spots on the island.  Then you can decide which hidden gems you want to explore.
You can even enjoy the Pearl Harbor GPS-led self-driving tour if you get early tickets to the Arizona Memorial.  This Pearl Harbor tour is an easy addition to this South Shore hiking tour and costs half as much as a regular one!  Use those savings to see other great attractions in Hawaii.  It also makes a great addition to our other Oahu self-guided driving tours.  
GPS Guide for Oahu Beaches and Hiking Tour Highlights
Here are just a few highlights, stop options, and GPS guide previews for Oahu Beaches and Hiking Tour facts.  The route was designed and researched by Halia Tours and Transportation, a five-star private tour Company.  It is designed to mimic the experience of an Oahu Mini Circle Island Tour while giving you the freedom and flexibility of your own vehicle. Local residents share stories through the worldwide traveler app VoiceMap. 
Important Oahu Beaches and Hiking Tour Information
Diamond Head to Hanauma

Diamond Head to Halona 

Halona to Makapuu Lookout

Makapuu to Lanikai Drive

Lanikai to Kailua Beaches 

Lanikai to town of Kailua

Kailua Tow to Koolau Distillery

Koolau Distillery to Hoomaluhia
Suggested Routing and Itinerary
Half Day Tour
Full Day Tour
Sunrise Tour
Pearl Harbor and Honolulu Tour Combo
Half Day Tour
The GPS Guide and Oahu Beaches and Hiking Tour by Audio Tour Hawaii is the perfect Half Day Tour.  There are several different options for guests wanting this length of the tour.
Drive through only takes 2-3 hours, but you will want to make several stops along the way.
If you want to participate in even one swim or hike on tour, you will want to set aside a half day.
If you want to stop and sample some of the local food options along the route, give yourself at least half a day to complete the tour.
Full Day Tour
Sunrise Tour
Pearl Harbor and Honolulu Tour Combo
New to the Community?  Represent a school group or local organization?  Even tour companies looking for a way to save money on employee training will love the AT.Hi experience.  We offer Kamaaina Pricing and free, fun retention quizzes for all our tours.  Why should visitors get to have all the fun?