Historical Honolulu Walking Tour
GPS guided walking tour along the historic trail exploring Downtown Honolulu.​
GPS Guided Walking Tour
Turn by turn directions & historical stories


GPS Guided Downtown Historical Honolulu Walking Tour
There is so much history in the Capital City of Hawaii.  This historical Honolulu Walking Tour will take you through the last 300 years.  Learn about the Kingdom of Hawaii, arrival of a new religion, the overthrow of the Government, and some contemporary information.  Learn more about Chinatown, World War II and much more.  The tour starts at Kamehameha Statue and ends near Iolani Palace across the street.  Only blocks from the harbor, this is perfect for guests in town on cruise ships.
Statues and Memorials: Start at the Kamehameha Statue, then see one of his son Kauikeaouli.  Visit Elvis Presley, Dr. Sun Yet San, Queen Liliuokalani, and much more.
Museums and Galleries: Choose from the Judiciary Museum, Mission Houses, Modern Art Museum, a variety of Chinatown Art Galleries, and of course, Iolani Palace.
Churches, Cathedrals, Cemeteries: Learn about Kawaiahao Church, the Mission Cemetery, St. Andrews Cathedral, and the Cathedral associated with two Saints.
Foot and Drink Options: Sample a wide variety of foods including food trucks, sit down restaurants, dim sum, local bars, noodle factories and more.
Unique Shopping Opportunities: Choose from a variety of shopping along the route including gift shops, flowers shops in Chinatown and more.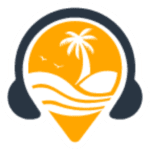 Experience Historical Downtown Honolulu on this Self-Guided Walking Tour
This tour helps you explore the area once known as Kou, know known as Downtown Honolulu.  We begin at the statue of the first King of Hawaii at we end by the last Queen of Hawaii and Iolani Palace.  Along the way you will learn about the Monarchy, as well as the overthrow.
Hawaii Five-0 fans will immediately recognize the famous headquarters of the show, and there are several other highlights from that series along the way.  Elvis Presley fans have the opportunity to visit his statue at the Neil Blaisdell Center.  There is a little something for everyone on this Honolulu walking tour.
You will also visit Chinatown and learn a little more about World War II.  The route even takes you past the oldest bar and tattoo shop in Honolulu.   After that, we take a walk down to see Aloha Tower where the visitor industry got jump started.
Fun, Facts, and Food on this Historical Hononlulu Walking Tour
There is a little something for everyone along this GPS-triggered self-guided Honolulu Walking Tour.  It is a perfect activity for guests who visit Pearl Harbor on their own, people visiting Iolani Palace or the Honolulu Museum of Art, Chinatown, and itʻs just a short walk from the cruise ships.  The route covers over 300 years of history in about 2 hours and there are a variety of churches, museums, galleries, and statues to learn about as you explore this wonderful city.
Important Waikiki & Historic Trail Information
Kamehameha to Thomas Square

Thomas Square to Queens

Queens Hospital to Chinatown
Chinatown to Aloha Tower
Aloha Tower to Old Post Building
Old Post to Hawaii Capital
Suggested Routing and Itinerary
Full Walk
Half Day Tour
Sunset Tour
Break into Sections
Military History Combo
Full Walk
The GPS Guided Historic Honolulu Walking Tour by Audio Tour Hawaii is about 3.5 miles long and takes approximately and two hours for the full route.
This tour includes the royal history of the Hawaiian Kingdom and itʻs illegal overthrow.
Learn about the transition from Annexation to Statehood.
There are several points of interest for Hawaii Five-0 and Elvis Presley fans.
Various museums, galleries, churches, cathedrals, and historical points of interest
Unique and diverse food and shopping options in Chinatown.
Learn more about World War II, see the Arizona Sailorʻs favorite bar, at Sailor Jerryʻs Tattoo shop.
There are options to save time or break the tour up into sections.
Half Day Tour
Sunset Tour
Break into Sections
Military History Combo
New to the Community?  Represent a school group or local organization?  Even tour companies looking for a way to save money on employee training will love the AT.Hi experience.  We offer Kamaaina Pricing and free, fun retention quizzes for all our tours.  Why should visitors get to have all the fun?