Best Hawaii Walking Tours with GPS Guided Historical Stories
Explore some of the most famous spots, and best Hawaii walking tours by AT.Hi delivered on the worldwide app for travel VoiceMap.  Listen to historical stories about the area's history, while enjoying food, shopping, art, and culture on foot. Enjoy a variety of options and activities located nearby the route or even break them up into multiple days. Weʻll even tell you where to find restrooms, sunscreen, and anything else you would need.
Waikiki Walking Tour 2: Military History
Explore the Ala Moana side of Waikiki and learn about the military use of the area after the bombing of Pearl Harbor.
Historic Downtown Honolulu Walking Tour
Enjoy historical stories about Honolulu, see Iolani Palace, Chinatown, the Kamehameha Statue, and more.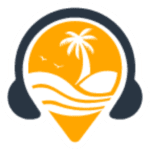 AT.Hi Presents the Best Hawaii Walking Tours
All of our audio tours are designed and narrated by professional guides.  We have built-in optional shortcuts and added stops from existing historic trails.  Along the way, we will point out the best restaurants, shops, and other attractions for you to enjoy.
The five-star Oahu private tour company Halia Tours and Transportation researched the stories and found our favorite tour industry professionals to give you the best experience possible.  All information is from reliable sources, shared by local people.
These GPS-guided tours will make sure you get the most out of your vacation or even just some entertainment during your morning exercise. Great for visitors, new residents, school kids, tour training, and those who are just curious to experience on foot.
Bike Tours
Prefer two wheels? AT.Hi offers a variety of bicycle tours to enjoy.
Combo Deals
Enjoy the most popular audio tour combinations by AT.Hi.
AT.Hi Self Guided Tours: How it Works
New to the Community?  Represent a school group or local organization?  Even tour companies looking for a way to save money on employee training will love the AT.Hi experience.  We offer Kamaaina Pricing and free, fun retention quizzes for all our tours.  Why should visitors get to have all the fun?