Great driving tours on the best app for travel and Hawaii scenic drives
Enjoy local GPS-guided driving tours by AT.Hi delivered on the worldwide app for travel VoiceMap to help you take in the best Hawaii scenic drives.  We plan around traffic, lane changes and give turn-by-turn instructions to the most popular spots on the islands.  Along the way, you hear fun, informative stories and insights into life in Hawaii.  All tours are designed and narrated by Hawaii tour industry professionals to ensure you have entertaining interpretation and accurate information from reliable sources.
North Shore Surf & Adventure
The seven mile miracle is famous for its surf, swimming, turtles, waterfalls, and historic Haleiwa.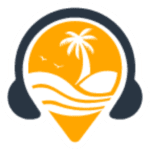 Rent a car & Explore with AT.Hi GPS Guided Tours
All of our audio tours are designed and narrated by professional guides.  We have chosen accessible routes, minimized lane changes and left turns while giving step-by-step directions.  Remove the stress of navigating signs and trying to read street names.  We have that taken care of all the details for you.
The five-star Oahu private tour company Halia Tours and Transportation researched the stories and found our favorite professional drivers in the industry to give you the best experience possible.  All information is from reliable sources, shared by local people.
These driving tours include some of the most popular attractions on the islands, like Pearl Harbor.  While we have included some places tour vehicles canʻt take you, but only included open, public areas or businesses that welcome visitors. That way, every part of your experience will be positive.
Bike Tours
Prefer two wheels? AT.Hi offers a variety of bicycle tours to enjoy.
Combo Deals
Enjoy the most popular audio tour combinations by AT.Hi.
AT.Hi Self Guided Tours: How it Works
New to the Community?  Represent a school group or local organization?  Even tour companies looking for a way to save money on employee training will love the AT.Hi experience.  We offer Kamaaina Pricing and free, fun retention quizzes for all our tours.  Why should visitors get to have all the fun?