Waikiki Walking Tour 2: Contemporary History
GPS guided walking tour along the historic trail exploring world famous Waikiki.​
GPS Guided Walking Tour
Turn by turn directions & historical stories


Contemporary Waikiki Walking Tour App for the Historic Trail
Are you a Hawaii Five-0 fan?  Were you planning on visiting the Fort DeRussy Army Museum?  This tour is perfect for you.  The self guided route spans the 20th and 21st Centuries and is a great way to follow up Part 1: Hawaiian Royalty.  Explore the Kalia side of Waikiki, Magic Island, and Ala Moana while learning about the contemporary history of the area.    By the end of the route on this walking tour app, you will have a much greater understanding of the Waikiki Historic Trail and plenty of fun to go along with it.
Waikiki Historic Trail: Visit stops 12-23 on the historic trail.  We provide background information between each stop  
Shopping Options: Hilton Hawaiian Village and the Ala Moana Shopping Mall offer a variety of shops and stands.
Food Options: Beach stands and bars, variety of sit down dining options, local barbecue and the Food Court.
Historical Options: Fort DeRussy, Hilton Hawaiian Village, Ilikai Hotel, Ala Moana Beach Park, Hawaii Convention Center, King Kalakaua Statue, Brother in Valor Memorial
Shortcuts and Sections: This tour can easily be broken into three different segments with a variety of transportation nearby.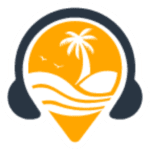 Walking Tour App with contemporary history to enhance the Waikiki Historic Trail
There is so much history in Waikiki!  This side of town showcases Military, Entertainment, and traditional history.  We have incorporated the second half of the Waikiki Historic Trail for you to experience as well.  We share stories in between and help you find the historical markers.
There are two main shopping and dining areas along this route.  The Hilton Hawaiian Village, Ala Moana Shopping Center and basically everything in between.  We also take a walk through Ala Moana Park to Magic Island where guests can cool off with a dip in protected, shallow waters.
This Waikiki self-led excursion is GPS guided and easy to follow.  You can join from anywhere along the route, but we definitely recommend starting from the beginning.  It is built on the worldwide VoiceMap travel and walking tour app, which is free to download and easy to use.
Explore and learn about the Kalia side of Waikiki
We incorporated the surfboard markers and stories from the Waikiki Historic Trail map into this walking tour.  There are opportunities for history buffs to learn more along the route.  Learn more about local legends Duke Kahanamoku along with worldwide celebrities like Elvis Presley.  All the while enjoying the modern amenities that this world-famous town has to offer on this walking tour app.
Important Waikiki & Historic Trail Information
Fort DeRussy to Hilton Village
Hilton Village to Ala Moana Park
Park Entrance to Park Exit
Mall to Convention Center
Convention Center to Statue
Statue to Helumoa Finale
Suggested Routing and Itinerary
Full Walk
Half Day Tour
Sunset Tour
Break into Sections
Hawaiian Royalty Combo
Full Walk
The GPS Guided Waikiki Walking Tour app by Audio Tour Hawaii is about 4.5 miles long and takes approximately two hours for the full route.
This tour includes the military and entertainment history of Waikiki. It is a "behind the scenes" walk through one of the most famous vacation destinations in the world.
History buffs will love the free extras and can follow along at waikikihistorictrail.org
There are options to save time or break the tour up into sections.
Half Day Tour
Sunset Tour
Break into Sections
Hawaiian Royalty Combo
New to the Community?  Represent a school group or local organization?  Even tour companies looking for a way to save money on employee training will love the AT.Hi experience.  We offer Kamaaina Pricing and free, fun retention quizzes for all our tours.  Why should visitors get to have all the fun?