GPS Guided Driving Tour
Turn by turn directions & historical stories


GPS Guided Pearl Harbor Tour Self Driving Tour
This historic Honolulu and Pearl Harbor tour and audio guide is perfect for those visiting the memorial on their own.  You can reserve your tickets to the Arizona Memorial and begin this self-driving Pearl Harbor tour with facts and turn-by-turn directions when you finish.  We included all the classics plus a few attractions not covered on traditional Pearl Harbor tours.
Pearl Harbor Attractions: Arizona Memorial, Battleship Missouri, Pearl Harbor Aviation Museum, Bowfin Submarine
Shopping Options: Pearl Harbor Memorial Gift Shops, Aloha Stadium Swap Meet (Wed, Sat, Sun), NEX (Military ID), Palace Gift Shops
Food Options: Aloha Stadium (Wed, Sat, Sun), NEX, Big Kahuna Pizza, Nicoʻs Pier 38, Itchy Butt Chicken
Historical Options: Iolani Palace, Queen Emma Summer Palace, Punchbowl, National Cemetery, Downtown Honolulu Walking Audio Tour
Scenic Lookouts: Nuuanu Pali Scenic Lookout, Tantalus Scenic Lookout Finale (Sunset HIGHLY Recommended)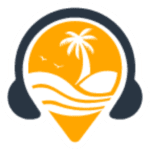 GPS Guided Virtual Audio Pearl Harbor Tour Details
The best part of a classic Pearl Harbor tour, other than the tickets, is the ride.  A good guide with a fascinating narrative and Pearl Harbor facts can make all the difference.  Thatʻs why we give you turn-by-turn directions to historic Downtown Honolulu, Punchbowl National Cemetery, Queen Emmaʻs Summer Palace, and the Pali Lookout.  Except if you want, you can actually tour Iolani Palace.
You can even enjoy the Historic Honolulu Walking Tour to buy time until sunset.  This Pearl Harbor tour is an easy addition to your visit to the Memorial and costs half as much as a tour!  Use those savings to see other great attractions in Hawaii.  It also makes a great addition to any of our other Oahu self-guided driving tours.  
Historic Honolulu & Pearl Harbor Virtual Tour Highlights
Here are just a few highlights, stop options, narration previews, and Pearl Harbor facts.  The route was designed and researched by Halia Tours and Transportation, a five-star private tour Company.  It is designed to mimic the experience of a classic Pearl Harbor tour while giving you the freedom and flexibility of your own vehicle. Local guides share stories through the worldwide traveler app VoiceMap. 
Important Pearl Harbor Facts and Information
Pearl Harbor to Swap Meet
Aloha Stadium to the NEX
Navy Exchange to Hokulea
Hokulea to Nicoʻs Pier 38
Nicoʻs to Punchbowl Cemetery
Punchbowl to Pali Lookout
Pali to Kamehameha Statue
Statue to Tantalus Lookout
Suggested Routing and Itinerary
Half Day Tour
Full Day Tour
Sunset Tour
Downtown Walking Tour Combo
Half Day Tour
The GPS Guided Historical Honolulu & Pearl Harbor Tour by Audio Tour Hawaii is the perfect Half Day Tour.  There are several different options for guests wanting this length of the tour.
Guests only wanting to

visit the Arizona Memorial

can book tickets for any available time.  Explore the museums, and even the

Bowfin Submarine

, then begin this driving Pearl Harbor virtual tour.  You will have time for one more activity, like lunch or the Downtown Honolulu Walking Tour.
If you have

Arizona Memorial Tickets

before 9 am, you can visit every other attraction at Pearl Harbor.  Afterward you will have enough time for this GPS-guided Pearl Harbor Tour by AT.Hi.
Not counting time spent at Pearl Harbor, you can do the driving route in about 2 hours.
Full Day Tour
Sunset Tour
Downtown Walking Tour Combo
New to the Community?  Represent a school group or local organization?  Even tour companies looking for a way to save money on employee training will love the AT.Hi experience.  We offer Kamaaina Pricing and free, fun retention quizzes for all our tours.  Why should visitors get to have all the fun?